Ok...so this one isn't exactly related to a recipe per say but it does have to do with some super cute lunch box ideas. Want to create beautiful lunches for your kids to open? Making them feel uber special while enhancing the chances that they'll actually eat that asparagus? Like this...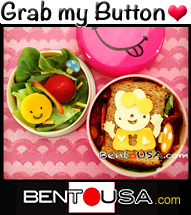 or this...
Can you see how cute these things are? Another amazing site is
Bentoriffic.com
. She has put together some adorable lunch box ideas and gives you tutorials. She also has adorable themes to help your kids learn colors and the alphabet! I can't wait to start packing lunches.
Does it get any cuter?
Happy lunchbox making everyone!
Psst...May is Celiac Awareness Month so I'm going to work hard to bring some new gluten-free recipes to the table. Stay tuned!!!